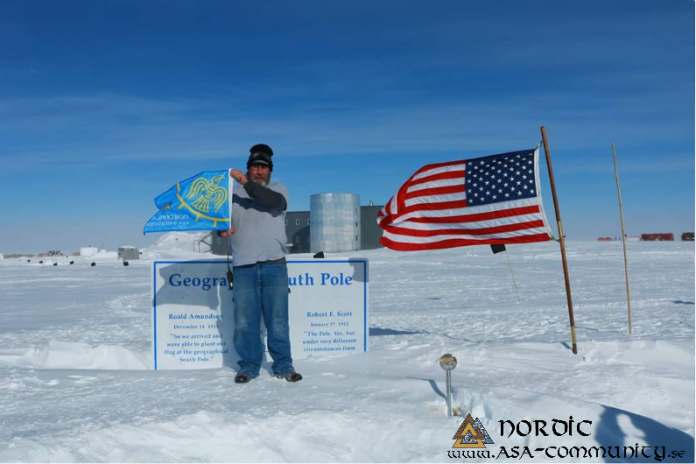 Yes it is indeed true. NAS member Mark K from the United States is at the actual South Pole. Where he, with the help of his friends, has kept a Julblot for all our Nordic powers. When you are at the absolute south pole, all directions are North. So with that he is the first Asatruer to honor North in every direction.
With him, Mark had his own NAS mead, brewed by our chairman Håkan, a NAS flag, and some minor details to carry out the blot. It seemed before almost impossible to carry it out because of the harsh weather. But as with the consent of the powers, the wind had to fall down during the storm and it was clearly minus 38 Celcius. Which for Mark and his friends was a perfect opportunity for the ceremony.
We at NAS are of course extremely proud to see this milestone. The first Asatruer on the South Pole and shows that the desire to explore and to overcome difficulties lives within us all. That the powers look after their own and that we together can make the impossible happen.
Who gets first to the North Pole?
Hail ASATRU
Hail Mark K
Hail NAS
Hail all of you who are struggling, the powers smiles at those who do not give up!