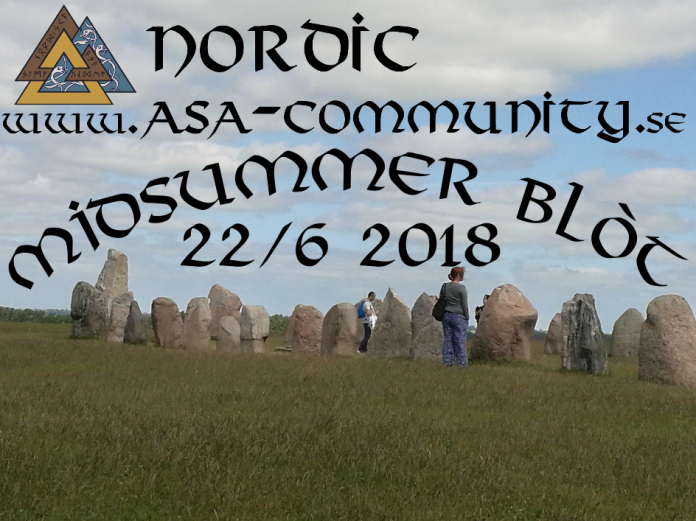 The Midsummer Blot 2018 at Ales stones in in the municipality of Ystad, Skåne (Southern Sweden)
This year 2018, it's time to visit the mighty and powerful Ales stones witch is a stoneship at Kåseberga. It's located just by the sea.
The Nordic Asa-community organizes it's Midsummer Blot with following feast at this amazing place.
A camping site and hostels are available nearby. Outdoor grills will be arranged and wonderful company will be found there.
We will be there from Tuesday 19/6 and hang out and have a nice time until Friday 22/6 at 15:00. The gathering before the blot begins at 14.00. And the actual blot is estimated to take an hour and soon after that the feast will begin, it means open grills and nice company until midnight.
We can of course help you to arrange campsites, hostels etc. But best is if you book it yourself.
Looking forward to a nice time between Tuesday-Saturday with a little market, camping life, nice company and much Àsatrú, and the culmination of the week with the big blot on friday.
So invite your friends and acquaintances, loved ones and show that Skåne can summon up more people in the circle on this blot than on midsummer 2017 in Uppsala. We were about 100 people in the circle then.
Welcome to attend this event, the cost for the camping is 120 sek per day.
Hostel about 850-900: – per day.
And the cost of this nice event and to hang out is only 150 sek ($18,52, €15,11). It's a potluck where you bring your own food but with the access to space, outdoor grills, mead during the blot and everything we arrange it's really cheap.
Coordinates:
55°22′51″N 14°03′28″E / 55.38083°N 14.05778°E
Welcome to a folkfeast with like-minded people.
Nordic Asa-community